Main Line Exterior Painting
The exterior of your home or business is your first chance at presenting guests or customers with a positive impression. So it's important that the exterior of your home is maintained properly – from professionally painted exterior walls to wooden exterior trim. When you hire our Main Line exterior painting contractors to manage your project, you can rest assured that Mike Jasinski Painting guarantees a quality, professional end result with every exterior commercial and house painting project.
Well maintained exteriors should be important to any home or business – whether you're planning to sell your Main Line area home or simply want to keep your home safe from the deterioration of weathering. Depending on the paint, the surfaces and other conditions of the exterior or deck, different approaches may be needed. Just like a home needs to be built on a solid foundation, a quality exterior paint job starts with thorough prep work, something our Main Line exterior painting contractors excel at.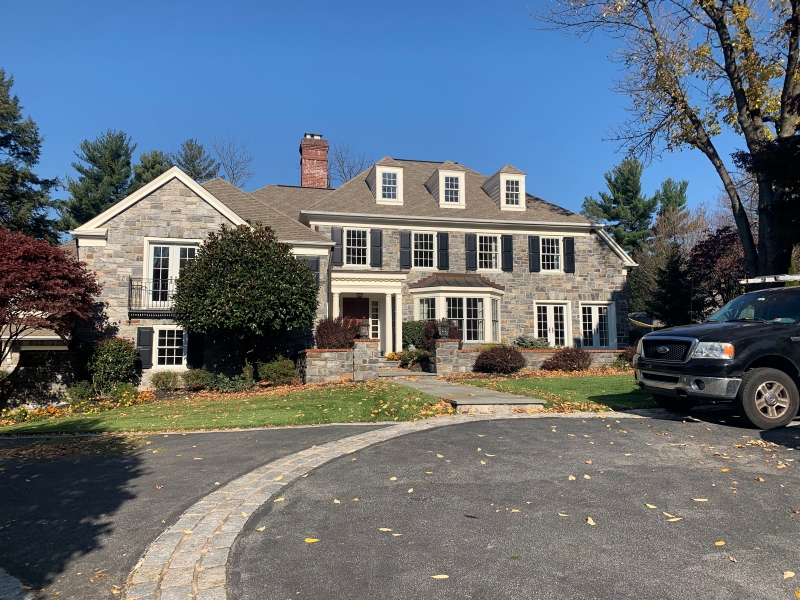 Preparation
All surrounding plants and shrubbery will be covered with clean drop cloths. All surfaces will be properly prepared before painting. This may include power washing, scraping, machine sanding, caulking, or a light hand sanding depending on the job. Preparation work is probably the most important aspect of any paint job, so rest assured it will be thoroughly addressed.
Exterior Painting
To ensure an exterior finish that will hold up to the test of time, we will use the right kinds of primers, exterior paints, stains, and sealants to fit your specific situation. Using the right product for each substrate is one of the keys to longevity.
A Lot of companies use the method "scrape and paint", and will do minimal preparation which lends to mediocre work. Here at Mike Jasinski Painting we do a thorough preparation to ensure quality work and timely clean up.
Cleaning and Restoration
After all the exterior painting work is complete by our house painters, we will be sure to leave your outdoor area as neat and clean as it was before we got there.
Consider exterior wall or deck maintenance by Mike Jasinski Painting if you are:
Planning an outdoor celebration and would like to spruce up the walls or deck;
Interested in having your home or business to stand out from the rest in the area;
Noticing mold and mildew, rotting wood, and cracking caulk;
Getting ready to sell a property;
Buying a new home;
Looking to freshen up the door and shutters.
Services Our Main Line Exterior Painting Contractors Offer
Exterior Painting
House Painting
Commercial Painting
Staining
Power Washing
Main Line Exterior Painting
Fence Painting
Exterior Paint
Painting Services
We Provide Exterior Painting in the Following Towns in PA:
Ardmore, PA
|
Bala Cynwyd, PA
|
Berwyn, PA
|
Broomall, PA
|
Bryn Mawr, PA
|
Devon, PA
|
Gladwyne, PA
|
Haverford, PA
|
Havertown, PA
|
Main Line, PA
|
Malvern, PA
|
Merion, PA
|
Narberth, PA
|
Newtown Square, PA
|
Paoli, PA
|
Penn Valley, PA
|
Radnor, PA
|
Rosemont, PA
|
Springfield, PA
|
Valley Forge, PA
|
Villanova, PA
|
Wayne, PA
|
Wynnewood, PA
|
Latest Painting News & Tips
How Can a New Exterior Coat of Paint Benefit My Home?

Your home is your castle. It's the most important investment you'll ever make. It's where you'll raise a family, grow old, and develop some of the fondest memories of your entire life. Fo […]

Easy Ways to Update Your Outdoor Living Space

One of the fastest ways to up your home's curb appeal is by painting your front door a bright and welcoming color. It's also a great way to try out a bold color without the risk (or labor) involved i […]
Our Most Recent Projects