EXPERIENCE THE CHRISTMAS SPIRIT THROUGH EXPERIENCE GIFTS
'Tis the season for cozy nights by the fire, baking cookies, gathering with loved ones, and of course, giving gifts.
Do you have that one difficult-to-buy-for person that just has it all, or are there kids on your list that have more toys than they can keep up with? If so, giving an experience gift can be the perfect option.
There are countless non-material gift ideas that can create new memories for you and your loved ones, that could range from a simple gift card to a spa or cleaning service, to a day or weekend get-away trip. More and more moms are requesting their kids receive things like zoo or museum passes, rather than more toys that just collect in their home.
If you're interested in gifting an experience this holiday season, take a look at this list of 43 Experience Gifts That Will Make You Everyone's Favorite Person from Happy You, Happy Family.
Updating your home could also be a great experience gift for yourself or someone in your household! From a newly painted garage or office for husbands, painted kitchen cabinets for wives, or an updated bedroom look for kids and teenagers, there could be a little something for everyone. Visit our website for a free estimate on any room you might be interested in updating.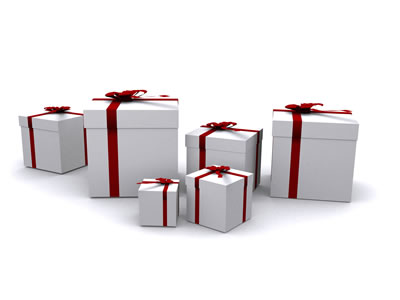 IS GRAY GOING AWAY?
Gray paint colors have been on-trend for quite a while now, and while a gray room is still neutral and classic look, the trends are finally shifting away from this go-to.
Warm colors are really coming back into the picture, think warm-toned greige, beige, taupe, and cream, but bolder colors are really finding a place in homes as well. This article from The Paint Color Project, Is gray still in style for 2022?, highlights sage green, terra cotta, warm white, and black as some on-trend colors as well.
If you're the type to like to keep a trendy looking home, consider updating some of your cool-toned rooms to warmer neutrals or colors. If you're partial to gray paint, layering in some trendier colored furniture or décor can also be a great way to change up your home's look.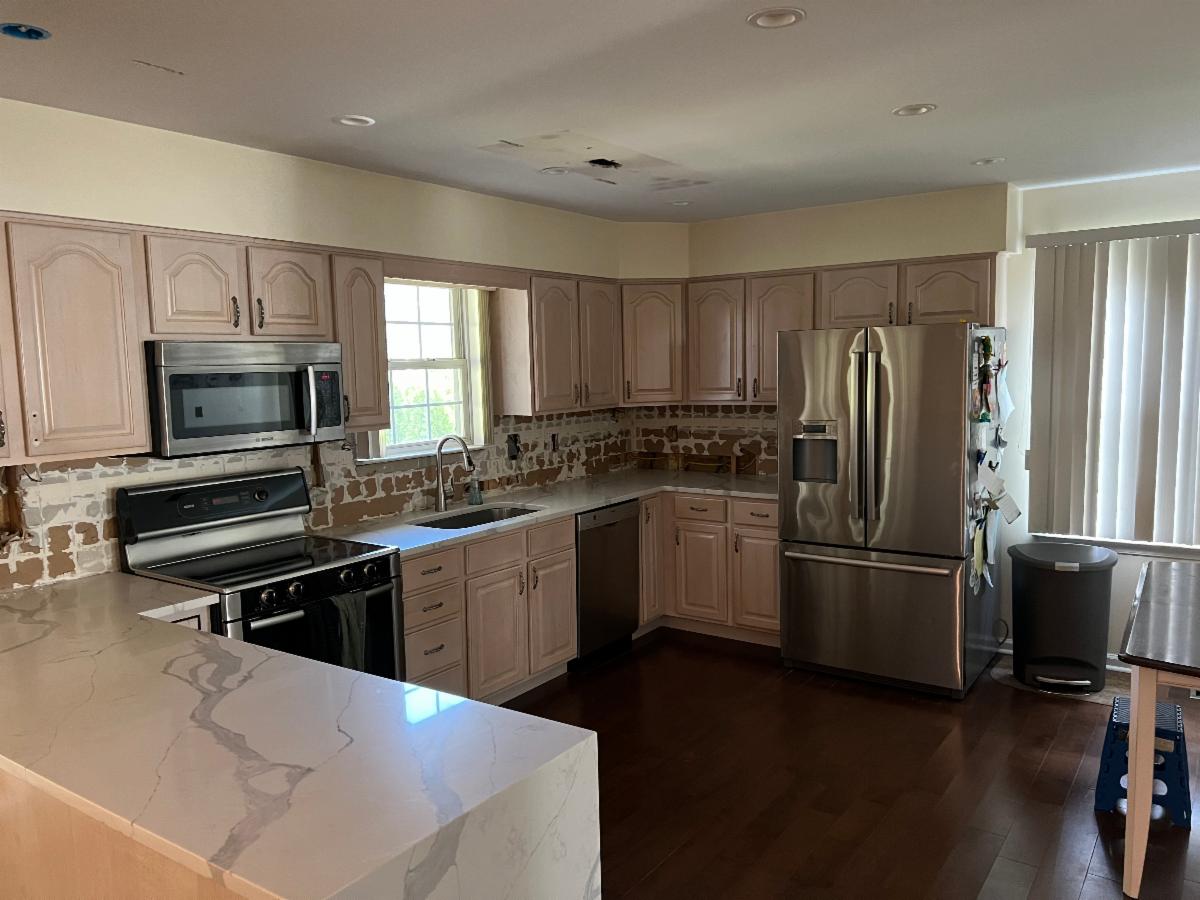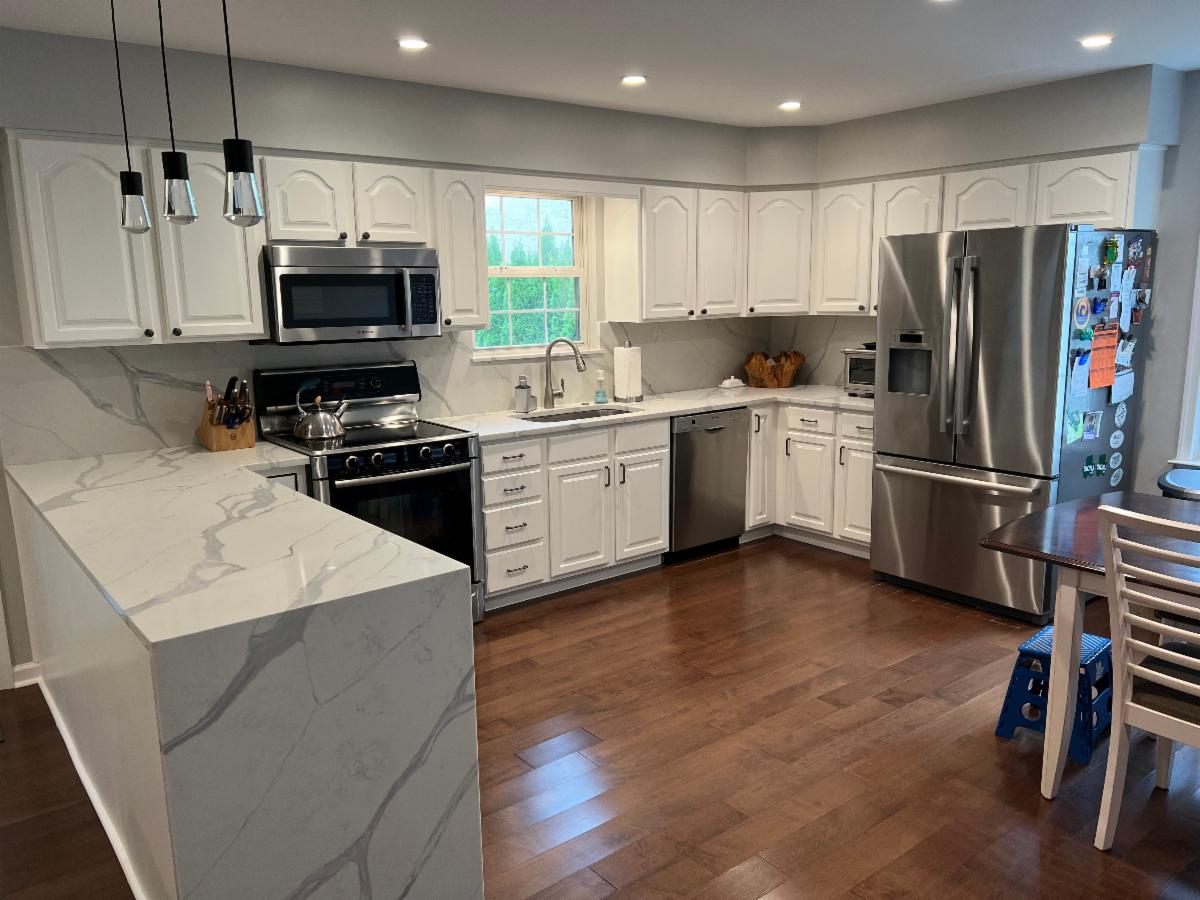 PROJECT SPOTLIGHT |

ARDMORE

"We contracted with Mike Jasinski Painting to paint our kitchen cabinets and our downstairs bathroom, kitchen and hallway. Mike and his staff did an awesome job making our 25 year cabinets brand new looking. They were neat, thorough, and responsive to all our requests and the finished work is impeccable."
-David F.

We completed a beautiful kitchen cabinet transformation for a recent client in Ardmore, in addition to updating the walls in the kitchen, hallway, and bathroom.

We followed our usual cabinet preparation process, which involves meticulous taping and protection of the surrounding parts of the home, removing the cabinets and using sanders connected to HEPA-filtered vacuums, and priming, all before paint. This multi-step process gives a professional outcome and makes dated kitchens look like brand new homes.

The cabinets were updated in Benjamin Moore's Simply White OC117, and the walls with Sherwin-Williams's Big Chill 7648. The homeowners were thrilled with the cleanliness during the work and the quality of the finished product.

To view more projects visit our Latest Projects page.
Latest Newsletters
2024 Color of the Year and a Whole Home Update in Malvern

As we enter the hustle and bustle of the holiday season, we can look ahead to the turn of the new year, knowing it is a great time to relax and reset. Ringing true to that tone, Sherwin-Williams has announced that the 2024 Color of the […]

Painting Illusions of Space

Sometimes a room or space in your home isn't exactly what you want it to be. The room could be too small, too narrow, have low ceilings, or more. Fortunately, painting is art and magic all in one, and can completely transform a space by leading your […]
See More Articles
Our Most Recent Projects