Sophisticated, Inviting Kitchen Update in Ardmore, PA
Memories are made in the kitchen, and while we cherish and remember the old, it's exciting to welcome new changes, as these Ardmore homeowners recently did. After Matt Isselman renovated the kitchen space, giving it a more open floor plan, updated woodwork, and new cabinets, Mike Jasinski Painting stepped in for the final, and most aesthetically important touch, the paint color.
To prepare for the job and protect the newly completed renovations, we taped off and covered all flooring and furniture with tape, plastic, and drop cloths. The next step in preparation was priming the new drywall with Sherwin-William's Premium Wall and Wood primer, and filling nail holes. Following that, we sanded the ceiling, walls, and woodwork with 150 grit sandpaper. Next we caulked gaps in the woodwork and applied one coat of Zinsser Odorless Oil-based Primer to any bare wood. We then applied two coats of Sherwin-William's Emerald Water-based Urethane Semi-gloss Enamel matched to the shade of Benjamin Moore's Cotton Balls OC-122 to complete the woodwork. For the ceilings, we applied two coats of Sherwin-William's Pro Mar Ceiling Paint, and for the walls, two coats of Sherwin-William's Duration Interior Matte matched to Benjamin Moore's Swiss Coffee OC-45. This color is part of their Off-White Color collection, and a perfect choice for kitchen spaces, with its tranquil, sophisticated, and inviting feel.
After a thorough clean up and removing all trash from the job site, the painting was complete and ready for the owners to enjoy. We, as well as Matt Isselman and the homeowners, were extremely pleased with this kitchen update in Ardmore, PA and wish the homeowners many happy meals and gatherings in their new space!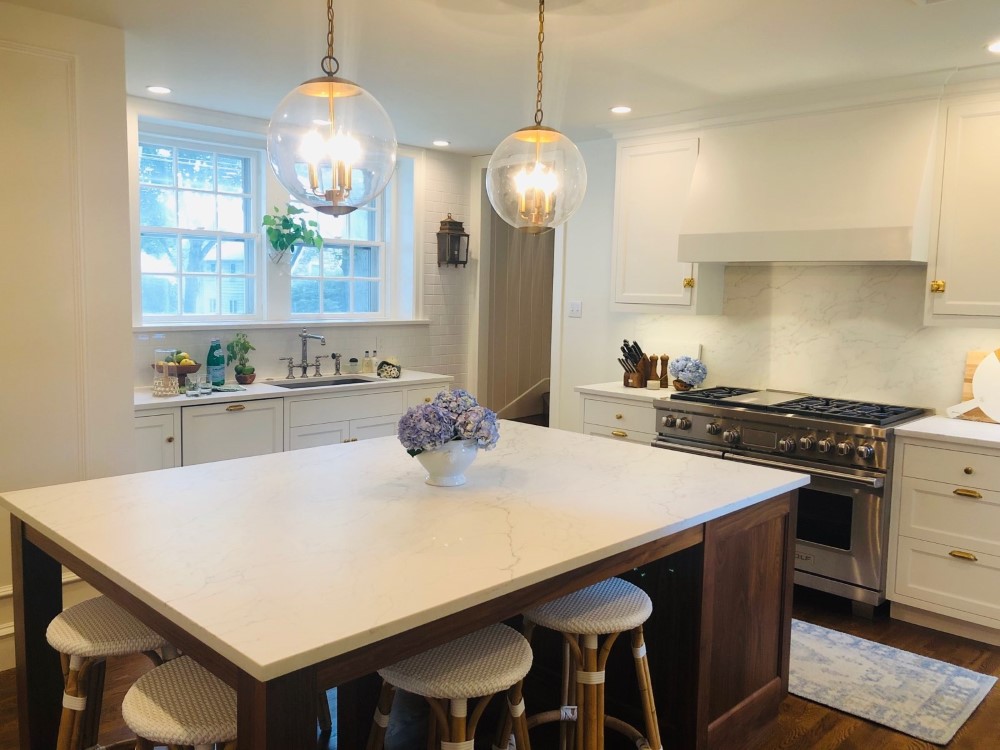 Products Used
Sherwin-William's Premium Wall and Wood primer, Zinsser Odorless Oil-based Primer, Sherwin-William's Emerald Water-based Urethane Semi-gloss Enamel, Sherwin-William's Pro Mar Ceiling Paint, Sherwin-William's Duration Interior Matte