September 2020 Newsletter
This year, the holidays may look a little different, but with a planning it can still be enjoyable. Soak up the last of the summer with picnics in the park, outdoor movies, backyard barbecues, or check off some items on overdue to-do list.
If you're hosting the family cookout, check out one of our favorite hamburger recipes here. It's a big hit with our family. If you give it a try, drop us a comment to let us know what you think.
Most of all, enjoy your weekend and save the painting work for the professionals. We know how to prep the walls to smooth out imperfections and always use two coats of paint to give you the best finish!
Book your FREE color consultation and appointment today to refresh your home's paint colors!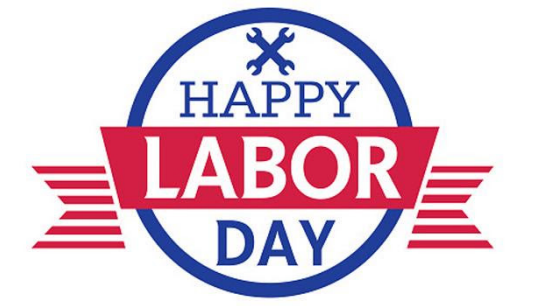 End of Summer Inspiration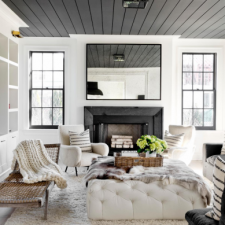 ADD A POP OF COLOR TO CEILINGS
When you consider painting the home, you think about the walls and the trim. But there is no steadfast rule that says you can't give your ceilings a burst of color other than white.
Depending on the look you're going for, painting a ceiling can give you a cozy vibe, have a tranquil calming effect, or make an otherwise dull room bold with a bright color.
If an additional color is too much for you, create a barely perceptible color difference by adding a few drops of the wall color into your white ceiling paint.
THIS OLD HOUSE – PAINT EDITION! WHOLE HOME PAINTING IN WALLINGFORD, PA
Older homes can have character and charm. But sometimes they also come with outdated wallpaper and paint colors that were popular last century. To bring this old home up to date in the Media area, the homeowners turned to the Mike Jasinski Painting team.
In the featured dining room, our team removed all the old wallpaper, patched and repaired the walls to smooth out imperfections, and applied two coats of the chosen paint color.
Our color consultant, Linda, advised the homeowners on the perfect color palette for the whole home. For this room in particular, they wanted to go with something more dramatic and chose Sherwin William's Serious Gray 6256. The homeowners were thrilled with the final product and couldn't believe the change it made to the home.
For our clients in Bryn Mawr, we updated the ceiling, trim, and crown molding with two coats of bright white paint to provide continuity throughout the rooms. Additionally, our color consultant, Linda, met with the family to select warm color tones to give the home a pop of color that was complementary to the style of home. And, from top to bottom, the wall colors were refreshed all before move in.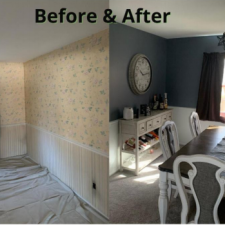 Latest Newsletters
January 2021 Newsletter

COLOR TRENDS FOR 2021 After a tough 2020, many are looking forward to 2021. We still don't know what type of year 2021 will be, but based on the color trends, we know what people are hoping for […]

December 2020 Newsletter

'TIS THE SEASON FOR HOLIDAY FUN! The festive season is upon us once again. Even though this year has been far from normal, we are still able to enjoy a few things from the previous holidays. […]
See More Articles
Our Most Recent Projects