October 2020 Newsletter
COLORFUL CHANGES IN SCENERY
Fall has finally arrived to the Greater Philadelphia area! Every year we look forward to the cooler weather and the changing colors in the foliage. Now is the time to get out and explore. Inspiration can be found everywhere and maybe you'll find a color outdoors that you want to bring indoors. Check out some of these locations for your next outdoor stroll!
And the Fall fun is just beginning with Halloween right around the corner. Here are some great ideas to get into the spirit, ranging from not so scary to down right terrifying! One of our favorites it visiting the pumpkin patch to pick the perfect one to carve.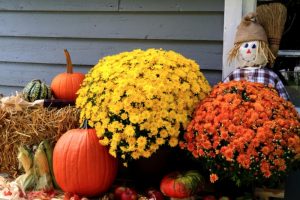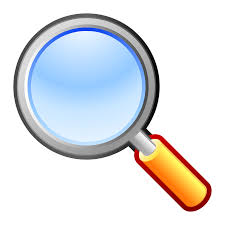 COMING SOON: PHILLY PUZZLE PIC CHALLENGE!
How well do you know the Philadelphia area? Put your detective skills to work next month when we launch our new virtual scavenger hunt contest! The rules are simple. Follow us on Facebook where we will upload the images and clues for the contest. Be the first people to answer all clues correctly and win a $50 Amazon gift card! Look for more information throughout the month on our Facebook page. The scavenger hunt will kick off November 11th.
PROJECT SPOTLIGHT: KITCHEN CABINET MAKEOVER ON THE MAIN LINE – BRYN MAWR, PA
Mike Jasinski Painting recently completed a stunning kitchen cabinet transformation in this gorgeous Main Line home. The owners were hoping to update the existing chestnut-toned cabinetry to a sleek, clean, timeless white.
To prepare for the job and protect the rest of the kitchen, we taped off and covered surrounding areas with a plastic and construction-grade paper. Following that, we carefully removed the cabinet doors, drawers, and hardware.
The next step in preparation was sanding the surfaces to be painted with mechanical sanders connected to HEPA filtered vacuums, vacuuming after each sanding. HEPA, or High Efficiency Particulate Air, is a term used to designate filters that can trap most minuscule particles that other vacuum cleaners would simply recirculate back into the air. This keeps your home air healthy and clean during the painting process.
Following that, we applied one coat of Zinsser odorless oil-based primer. Two coats of Sherwin William's emerald water-based urethane semi-gloss enamel were then applied using a high volume low pressure (HVLP) sprayer. We lightly sanded with a fine grit sandpaper between each coat of paint to ensure a smooth and seamless application.
Finally, we reassembled the updated cabinets and made the job site back in to a home space again with a thorough cleaning of the area. We were thrilled with the outcome of this transformation, and more importantly, so were the home owners.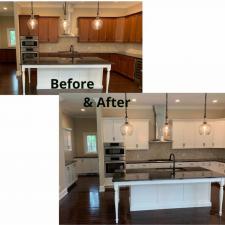 Latest Newsletters
January 2021 Newsletter

COLOR TRENDS FOR 2021 After a tough 2020, many are looking forward to 2021. We still don't know what type of year 2021 will be, but based on the color trends, we know what people are hoping for […]

December 2020 Newsletter

'TIS THE SEASON FOR HOLIDAY FUN! The festive season is upon us once again. Even though this year has been far from normal, we are still able to enjoy a few things from the previous holidays. […]
See More Articles
Our Most Recent Projects