March 2020 Newsletter
Project Spotlight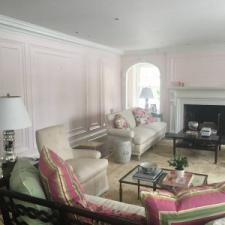 BEAUTIFUL SPRINGTIME REFRESH!
These smart homeowners in Wayne, PA scheduled Mike Jasinski Painting early in the season to provide high-quality interior painting services. They selected a beautiful shade of paint that lightens and brightens this living room. Please note how the paint colors beautifully complement the lovely furnishings and upholstery. Now these homeowners are ready to show off this exceptional interior this spring and summer.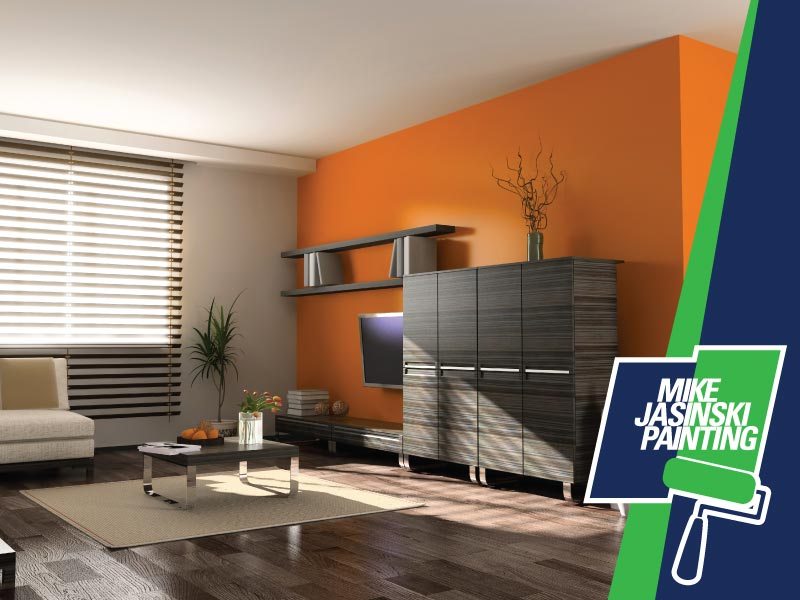 INTERIOR PAINTING IDEAS THAT EXPERTS SWEAR BY
"People are easily intimidated when they decorate their home. They think it has to be one way. But there's no one way. It's your way, your style." – Bryan Batt
Decorating the interior of your home, as both fabulous and functional, may seem like a task you are not equipped to handle, you can make your own interior design decisions efficiently with ease and without the help of a professional designer.
Finding inspiration is the first step to create the home décor you desire.
Search for the home-style that matches the layout of your home and browse various interior paint ideas that appeal to you. It is vital that you consider the size of your home, the orientation and the natural sources of light before picking the design that you desire. Now, step back and evaluate the style you crave to create.
Create Your Interior Color Scheme
After you finalize on the style you desire, you need to select a paint color scheme for your interior walls. Picking a color is the tricky part, as the color palette you choose needs not only to look eye-catching, it also needs to feel personal and create the right tone for your home. The choice of color has no fixed rule; you can choose the paint colors that are in trend or opt to choose what you find appealing. However, a trick to create an impressive interior home décor is to create a paint color palette that has at least three colors or shades. One base color that dominates the walls; An accent color for the cushions, upholstery and focal wall and a third contrast for the trims, window panes, and moldings.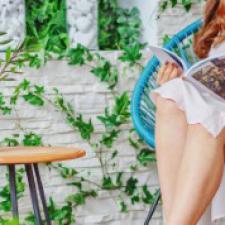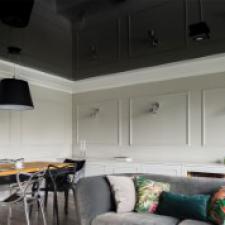 5 Best Ceiling Paint Ideas for Your Home
Did you know that you can also play around with your ceiling color to add some style to your home? Why limit your creativity to just the living room and bedroom walls when you can try some ceiling color designs too? Most of us have stuck to the safe choice of a white ceiling. Let's breakthrough this usual trend of ceiling paint design and try some of these inspiring pop ceiling colors.
1.Bold 'n' Black
Let's talk about taking a bold move, and why it is okay to do so. If you are ready to paint your home walls with dark colors like black and graphite grey, then why not the ceilings? Ceilings painted dark grey or black create a dramatic and intimate feeling in a room. Since these ceiling paint colors can make the ceiling feel lower, homes with high ceilings or abundant natural light are an excellent choice to experiment with such darker fall ceiling colors. And if you think painting the walls with similar colors will make your home look dark, limit the walls to whites or off-whites.
Latest Newsletters
January 2021 Newsletter

COLOR TRENDS FOR 2021 After a tough 2020, many are looking forward to 2021. We still don't know what type of year 2021 will be, but based on the color trends, we know what people are hoping for […]

December 2020 Newsletter

'TIS THE SEASON FOR HOLIDAY FUN! The festive season is upon us once again. Even though this year has been far from normal, we are still able to enjoy a few things from the previous holidays. […]
See More Articles
Our Most Recent Projects