December 2020 Newsletter
'TIS THE SEASON FOR HOLIDAY FUN!
The festive season is upon us once again. Even though this year has been far from normal, we are still able to enjoy a few things from the previous holidays.
One of our favorite holiday activities is to check out the various holiday light displays.
All around the area, homes are decorated with bright lights and colors trying to bring a little cheer in a dreary year. Visit the Nextdoor app and you can find a map of neighbors around you who have put lights up for you to enjoy.
And if you like to visit professional light displays, here are some of the best around the Main Line area. If you need a holiday pick me up, they are sure to brighten your mood.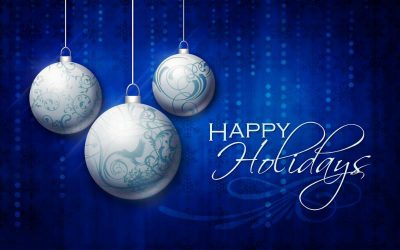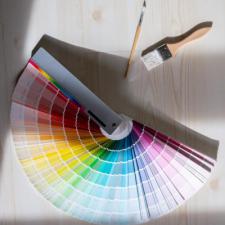 Selecting the Right Color for Your Home
Standing in a well-lit store, you think you've found the perfect color for your home. You grab the free color swatch, take it home, and then see that it's terrible with the light and other decorations.
We've all been there, but luckily there are a few rules that we can use to help you select the perfect color. Sometimes it's finding complementary colors or simply using the existing color in a different tone or shade.
Our color consultant, Linda, is always happy to help homeowners select the best colors that match their homes and personalities.
To help get you started brainstorming color options, here are some tips that can help you to choose the best colors for your next project.
Creating a Peaceful Retreat at Home in Berwyn, PA
Your home should be a space that makes you feel comfortable and at peace, somewhere you can retreat to after a hectic day. And that was what the Mike Jasinski Painting team delivered on our latest interior painting project spotlight along the Main Line.
Our Berwyn, PA homeowners enjoy spending time outside on their property and wanted to bring that light, outdoor feeling inside to their living space. The previous wall colors were dated and didn't have the aesthetic that they were looking to achieve.
With so much natural light to work with thanks to the huge windows, our homeowners selected Sherwin-William's Duration Interior Matte Essential Gray SW6002 as the featured color and Westhighland White SW7566 as an accent color for the chimney area. We also applied two coats of Sherwin-William's Emerald Water-based Urethane Semi-gloss Enamel Westhighland White SW7566 on all of the trim in the home.
The overall effect gave them the airy feeling that they were trying to achieve to open up and brighten the space. Every wall was refreshed with two coats of paint to ensure the best coverage and ceilings refreshed with Sherwin-William's Pro-Mar Ceiling Paint.
This was a trickier project for us since we were working with such tall walls and high ceilings, but we think it turned out spectacular. Our professional painting team looks forward to working with the homeowners again on an upcoming interior painting project.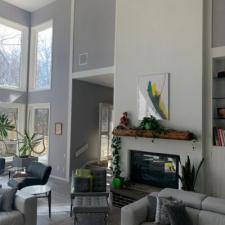 Latest Newsletters
January 2021 Newsletter

COLOR TRENDS FOR 2021 After a tough 2020, many are looking forward to 2021. We still don't know what type of year 2021 will be, but based on the color trends, we know what people are hoping for […]

December 2020 Newsletter

'TIS THE SEASON FOR HOLIDAY FUN! The festive season is upon us once again. Even though this year has been far from normal, we are still able to enjoy a few things from the previous holidays. […]
See More Articles
Our Most Recent Projects