Kitchen Cabinet Painting Transformation in Bryn Mawr, PA
Mike Jasinski Painting recently completed a stunning kitchen cabinet painting transformation in this gorgeous Bryn Mawr home. The owners planned accordingly so they would come home from vacation to find their existing chestnut-toned cabinets updated to a sleek, clean, timeless white.
To prepare for the job and protect the rest of the kitchen, we taped off and covered surrounding areas with a plastic and construction-grade paper. Following that, we carefully removed the cabinet doors, drawers, and hardware. The next step in preparation was sanding the surfaces to be painted with mechanical sanders connected to HEPA filtered vacuums, vacuuming after each sanding. HEPA, or High Efficiency Particulate Air, is a term used to designate filters that can trap most miniscule particles that other vacuum cleaners would simply recirculate back into the air. This keeps your home air healthy and clean during the painting process.
Following that, we applied one coat of Zinsser odorless oil-based primer. Two coats of Sherwin William's emerald water-based urethane semi-gloss enamel in Snowbound SW007 were then applied using a high volume low pressure (HVLP) sprayer. We lightly sanded with a fine grit sandpaper between each coat of paint to ensure a smooth and seamless application.
Finally, we reassembled the updated cabinets and made the job site back in to a home space again with a thorough cleaning of the area.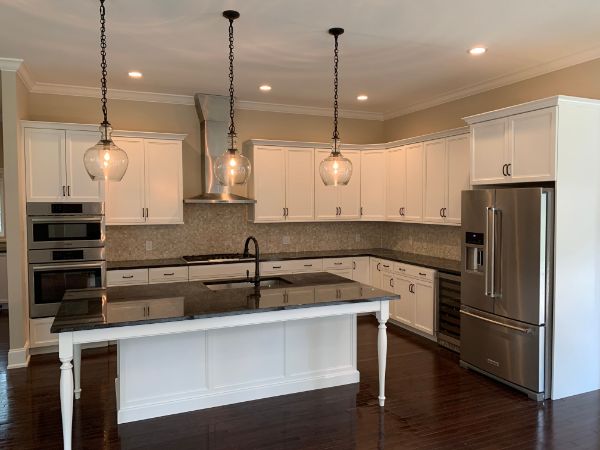 Professional Interior Painting Services That Impress
We were thrilled with the outcome of this transformation in Bryn Mawr, and more importantly, so were the home owners. In fact, they were so ecstatic over the work that what started as just a cabinet job transitioned into a painting update throughout their home.
Bryn Mawr Kitchen Cabinet Painting - Image Gallery